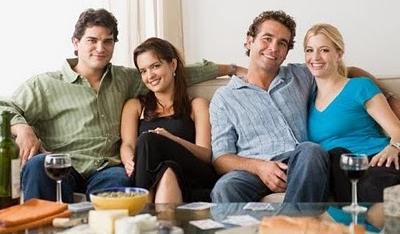 What To Expect When You Come To One Of Our Dances or Parties

Swingers as a group are just like any other group of people who you may know, perhaps yours neighbors, or people you work with or went to school with. The only real difference is that we don't have the same level of hang-ups about sex and sexuality that the people that you know in these other groups might have. You likely have an interest in sexual things, even fantasies which you know that you couldn't share with these other friends. You also feel your views on sex outside your marriage (or primary relationship) on perhaps sharing your partner with others is not the way these other friends may view things. You may have a curiosity about bi-sexuality (this is especially true of women, as about 80% of women in swinging are bi-sexual) which you know would not go down will with your "straight" friends. Well, it's exactly bonds like this which draw swingers together. Within the parameters of our swinging community, we recognize that these taboos are artificial, and again, with the confines if our swinging community we give life to our fantasies and find a plateau of pleasure not possible with our straight friends.

But does this mean that once you come to one of our socials that you cast all the rules aside, that your become fair game for anyone, or (shudder) everyone? Not at all! The paramount concept behind swinging is the right to choice or selectivity. You and your partner have the right to choose with whom to swing. As a result, our dances are relaxed pressure-free evenings during which you have the opportunity to meet a greet many like-minded people without any commitments or obligations. Then, later in the evening, or perhaps later in the week at your leisure, you can make the decision of yes, no or maybe. And all this happens while having a great evening out, with a really interesting group of people.

Sounds simple right? Just keep in mind, that everyone who comes out to a swingers club has views on sexuality not far off your own. And amidst all these wonderful sexual relationships, most people find really intense friendships that the physical relationships prosper. Actually though, the question of the chicken and the egg might be easier to answer. Either way, though, swingers come away finding that they have found new levels of physical and social pleasure that were just not available to them before they entered the swinging world. It's not an overnight accomplishment. You may not find the beginnings of such a friendship your first time out (usually because you're simply too nervous to let it happen) but given a chance it will. Because that is what swinging is all about.

So, relax and come out for yourself and see. After all, you'll be among friends... you just haven't met them yet!